Due to the current coronavirus pandemic, a lot of us simply have to do our jobs from home. And that means hunting around for the best video conferencing software.
For some of us, the current situation is business as usual. But for others, working from a remote location can be quite challenging. This is especially true for people who are dependent on working with people in the office. But, luckily, you can adapt quickly with proper tools.
Now, you are able utilize various tools to stay in contact with your remote team. But video-conferencing services will work wonders for business.
In this article, we are going to provide you with the best video-conferencing software 2020 solutions. Keep in mind that the first one is by no means the best one and the last one is certainly not the worst. We will present them in no particular order.
1. GoToMeeting
GoToMeeting has many useful features. You can schedule and record virtual meetings, make audio conferencing calls, host webinars, etc. You can also use this solution to transcribe them.
You can set up private meeting rooms using the GoToRoom feature. That way, your team can click on your custom link to instantly join you online.
There is also the possibility to share the screen and draw over content like you're using interactive whiteboards. No more than 250 users can join.
GoToMeeting has a three-month free trial option if the coronavirus affected your business in any way (and, frankly speaking, it probably has).
2. Zoom
With Zoom, you can hold virtual meetings and train employees.
You can create conference rooms, host video-webinars, share docs and other file-types, and leverage cross-platform messaging. It also includes an enterprise phone system.
Zoom is another software that's offering free video-conferencing services right now. Its free plan already supports unlimited meetings (with a 40-minute limit for more than two participants).
Now, there's no time cap for its China-based users of that free plan. They can also add more than two participants.
The premium version also offers perks such as 300 participants, managed domains, company branding, custom emails, cloud storage and even transcripts of your meetings.
3. Skype
As you may know, Skype doesn't have a bunch of powerful features. It's straightforward, but also very reliable. You can never go wrong with Skype.
With Skype, you can make calls (video and audio), even to landlines. There is also mobile screen sharing, and you have the ability to record.
Live captions and subtitles an excellent addition, which makes Skype different from other similar tools. That's great if you encounter some trouble with the sound, as you won't miss anything your teammates are saying.
You can video-chat with up to 50 people simultaneously.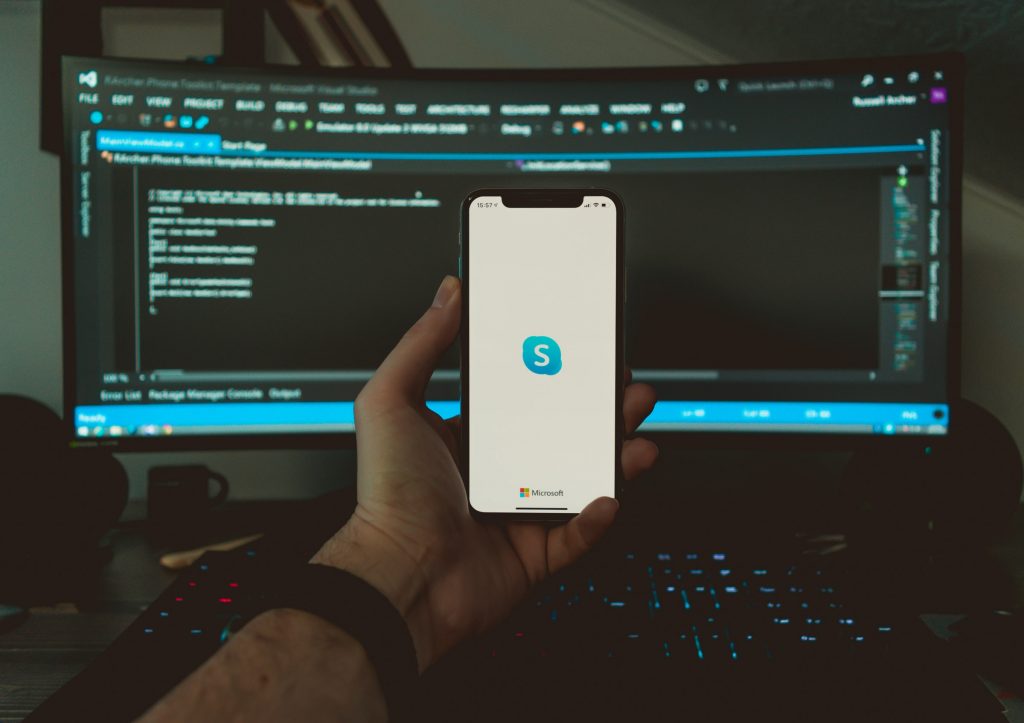 4. Microsoft Teams
Microsoft Teams is yet another excellent solution for video-conferencing. It's actually a hub for all Office 365 services. It integrates them on a single platform, making your workflow seamless.
You can exchange all Office 365 files with teammates anytime. The option to communicate with them, as well as using messages and calls is available too, of course.
You can invite 10,000 people to join your live events.
Microsoft Teams is also available for free for the time being. You can enjoy a free video-conferencing trial for six months.
The free plan will give you unlimited chat and search, online meetings and video calling, team (10GB) and personal (2GB) cloud storage, and finally access to the Microsoft Office suite.
5. Zoho Meeting
Zoho Meeting is a video-conferencing app specifically dedicated to small businesses.
It allows toll-free VoIP calls and video-conferences, as well as recording, downloading, and video-sharing. You can also share your screen, communicate via live chat, and remotely control devices. It supports up to 100 simultaneous users.
You can also host webinars, gathering no more than 250 attendees. They feature audience polls, Q&As, email reminders, and in-depth analytics and reports on engagement.
This tool is web-based, which means you don't need to download anything. You can access it via your browser.
6. Cisco Webex
Just like all these other tools, Cisco Webex offers excellent video-conferencing services.
You can use VoIP calls and videos, share different files and screens, and make calls via the cloud. You can gather no more than 50 people at a time for virtual meetings lasting 40 minutes.
Webex enables you to set up webinars too, and even train your employees. It also has live captions like Skype and features AI and machine learning.
Like many others, Cisco Webex currently offers free video-conferencing for remote teams. You can now use it with no time restrictions, engage up to 100 teammates, and use tall dial-in.
7. BlueJeans Meetings
BlueJeans Meetings is one of the best video-conferencing for small business solutions. It's web-based so that you can access it right from your browser.
It comes with all the features you'll ever need in a video-conferencing app, and more. It supports real-time video-meetings, easy screen sharing, cloud recording, and streaming.
It's unique in that it lets you create the so-called smart meetings. They include highlights for capturing the most vital points in a meeting, and anyone can replay them anytime. They also enable assigning various actions and following up after the meetings.
BlueJeans offers solutions for web conferencing rooms and events, so it's nice to check those out too.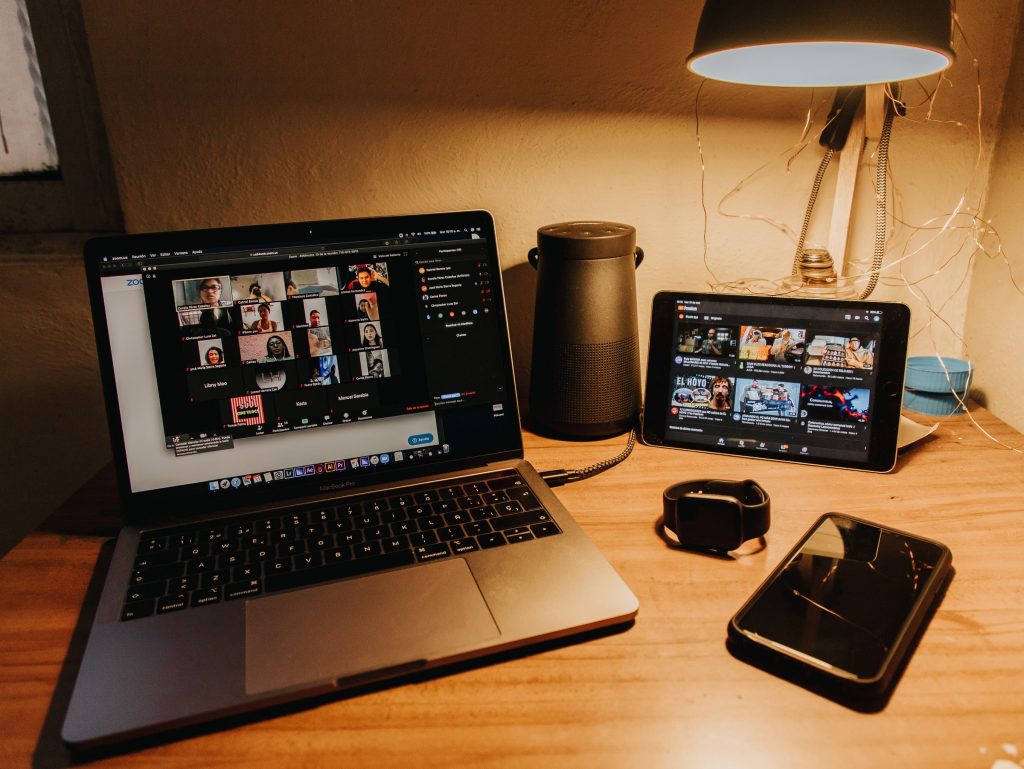 8. Intermedia AnyMeeting
Intermedia AnyMeeting lets you set up web conferences, transcribe meetings, and share the screen. Like Skype and Webex, it also supports live annotations. You can also record meetings, add notes, and utilize other tools for collaboration.
AnyMeeting has AI capabilities and lets you meet up with 200 staff members at the same time.
To make this unprecedented time a bit easier for businesses, Intermedia AnyMeeting is extending its services. You can enjoy its Pro model for free until 2021, without any future commitments.
9. Amazon Chime
Amazon Chime provides an all-in-one solution for your business phoning needs. That means you can combine your existing IP phone services with video conferencing software and much more all under one roof.
The free version of Amazon Chime gives you access to the video conferencing software, whereas Chime Pro adds all the other communication services on a pay-as-you-go-basis. See pricing examples based on estimates on their website.
10. Google Meet
Finally, we have Google Meet, which is a free video conferencing software. Anyone with a Google or G Suite account can use it for personal or business purposes.
You can launch it directly from your other Google Apps, such as Gmail, which helps you minimize interruption to your workflow. Head over to the Google Meet training page to learn more about how to use it.
Which One Will You Use?
There are plenty more tools out there, but these are undoubtedly some of the best video-conferencing software 2020 tools. You can't go wrong with any of them, so be sure to give them a try. Each comes with a free trial, so you have nothing to lose.
But have you thought of making your own video-conferencing app? You could have a unique tool that perfectly fits all your business needs. What's more, you could save lots of money in the long run, as you wouldn't need to pay for subscriptions.
CoderTalent is a team of top-notch software engineers that can develop any software you need. No matter your project requirements, they can deliver outstanding results, so be sure to check them out.